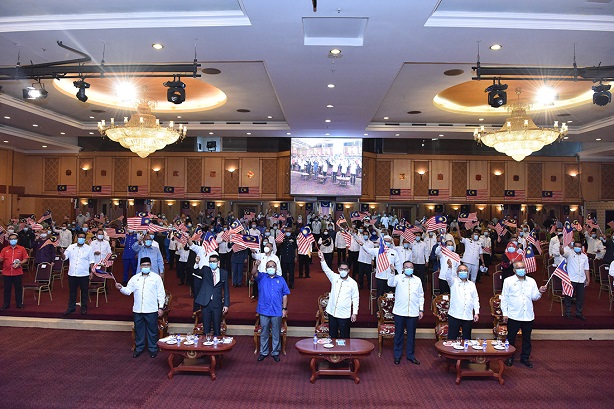 This year's National Month and Fly the Jalur Gemilang Launch was celebrated with the new normal in compliance with the implementation of the RMCO SOP.
IPOH, 28 July 2020 – The National Month Celebration in Perak this year would be different from previous years when celebrated using hybrid of two methods, i.e. physical and digital.
Perak Menteri Besar Dato' Seri Ahmad Faizal Azumu said the organisation of this year's programme would use a participatory approach from home and he hoped Perakians would take part in the programme organised as part of the entire National Month Celebration this year.
"These programmes need to be organised to maintain the momentum of the celebrative atmosphere and preserve the tradition as a sign of gratitude for past struggles.
"Regardless of the individual, organisation or department, we need to play our respective roles in stirring up the atmosphere of the National Day celebration," he said.
He said this when officiating the 2020 State Level National Month and Fly the Jalur Gemilang Launching Ceremony which was jointly organised by the Perak State Secretariat and the State Information Department at Bangunan Perak Darul Ridzuan.
Also present were State Secretary Dato' Ahmad Suaidi Abdul Rahim, State Legal Adviser Azmir Shah Zainal Abidin, State Financial Officer Dato' Zulazlan Abu Hassan, Islamic Religious and Information Committee Chairman and State Exco members.
In conjunction with this year's National Month, five main programmes will be organised according to the RMCO SOP, i.e. Merdeka Moment which encourages the people to fly the Jalur Gemilang at their respective homes and then upload pictures of the Merdeka expression on social media platforms.
The Merdeka Community Bonding programme was introduced by recording activities of the local community decorating the Jalur Gemilang at selected residences and recording singing of patriotic songs in groups.
The Colourful Merdeka Competition was also introduced by encouraging the community to organise independence-themed fun programmes and hold digital competitions.
In addition, the Bicara Kemerdekaan dan Doa Untuk Malaysia programmes will also be held. Similarly, Merdeka Talk which will discuss the topics of independence from the perspective of the media as well as prominent figures born in Perak.
The Jalur Gemilang Merdeka Roadshow Programme to every district in the state will also be held from 28 July to 30 August.
| | |
| --- | --- |
| | The Selendang Perak group presenting the Jalur Gemilang song. |
| | The Perak Menteri Besar mingling with participants of the Merdeka Roadshow Convoy. |
| | The Perak Menteri Besar flagging off the Merdeka Roadshow Convoy. |
Source : Corporate, SUK Perak.